Coop's Microcreamery Hot Fudge, Salted Caramel sauce, and other goodies
Fun fact: I am ice cream royalty. I grew up in Boston, where my father ran a small microcreamery, selling retail and wholesale super premium ice cream, and winning Best of Boston all the time. Now he focuses on ice cream toppings, and they are delicious.  When I have a few moments free, I help in the "back office" of Coop's Microcreamery. Really. Good. Stuff.
Vermont Icelandic Horse Farm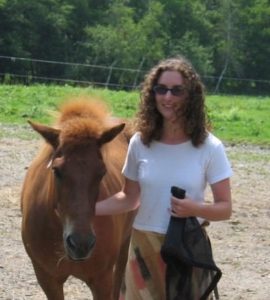 I love Icelandic horses and Vermont. And I don't go here enough. If you also love horses and nature, I recommend going. I spent some lovely summers guiding trail rides, weed whacking, grooming horses, and yes, shoveling poop.
This is Didda and me.